Let's have a look at a few new books releases that seem really interesting:
1. 10 Days to Overcome Procrastination Addiction: Take Action & Get More Done by A. Andrews
This book was published this month. I think sometimes there may be a fine line between recharging your batteries and procrastination. However, even procrastination can sometimes be quite good for you and, according to scientists, it is a natural and normal developmental stage in teenage years. It can lead to creativity and make our life better as we can find solutions to problems more easily, re-consider our goals, and so on. Of course too much procrastination isn't good for us.
In January this year 1,000 people participated in an online Google survey. Nearly 30% admitted that they procrastinate sometimes … which seems fine, right? A little over 22% said they do it often and approximately 20% of people do it every day. That's a bit more than we would like, I guess.
What's interesting is that around 22,500 people a month ask Google 'How to stop procrastinating?'. There are many others who look for answers in books or perhaps ask for advice from a friend or family member. It is a common thing, nothing to be too ashamed about but as with everything else we need a healthy balance. If we feel like we procrastinate too often, this book may be very helpful.
2. Tiny Habits: The Small Changes that Change Everything by Bj Fogg.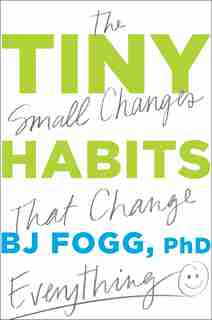 It's true, isn't it? Many of us know that small changes can make a huge impact in our lives. This book will take you through various topics such as motivation, ability, emotions and other aspects that have an impact on creating habits. The emphasis in this book is on the word 'tiny' so it seems doable and not overwhelming.
Most authors agree that we need 30-60 days to create new habits; however, it's worth remembering that according to scientific studies (e.g. P. Lally) it can even take up to 254 days! I'm not saying this to discourage you, but rather so you bear in mind that quitting shouldn't be the best solution if the new habit doesn't seem to be formed within a month or so. We may give up for a day or two as it may be hard to continue doing something that is new to us. However, if it is important for us, we should re-consider if there are any other ways of doing things (maybe instead of running 30min every day it would be better to start with 3-4 x a week?).
3. The Declutter Challenge: A Guided Journal for Getting your Home Organized in 30 Quick Steps (Home Organization and Storage Guided Journal for Making Space Clutter-Free) by C. Aarsen
I've included this book in the list, because having an organised space and environment around you makes life so much simpler and work so much more productive that it can reduce your housework by… 40%! If you can't find things you need, and you feel like you have a million things at home and many don't have their proper dedicated space, then it will draw lots of your energy and you will often feel frustrated, angry, guilty, anxious and stressed! Organised space can make you feel much calmer and more energised. Think of all the extra time you'd have for your family, projects, hobbies, work or simply for yourself, your personal growth perhaps. This book by C. Aarsen is out since 14th May.
4. TimeCrafting: A Better Way to Get the Right Things Done by M.Vardy
The author promises that time-management does not have to be complicated and complex. He offers a method focusing on Mindset, Method and Mastery. The book is filled with real life examples so it may be easier to identify with some of the scenarios and see how the method can best work for us. The title will be released on 30th July and it will cost £16.95; however, if you'd like to see what the author has to offer you can also check out his e-books which are only £0.99 (Beyond Trying and (Pre)Productivityism).
Do you feel you may find one of these books useful? What topic in personal growth and productivity fields interests you most?
* Sources: organizedinteriors.com, amazon.co.uk, microbizmag.co.uk