A simple distraction such as a notification (often not important at all!) on your mobile means that each time you lose your focus and, according to studies, need 4 to 15 minutes to concentrate and motivate yourself again to keep working effectively on your tasks!
It was found that office workers are distracted every 3 minutes on average!
Data from 2016 indicated that 3 out of 4 employers believe that every day an average employee loses 2 hours of work due to distractions. While you are doing your work, write down all the distractions that happen for a week or two and analyse them. Think what you could do to minimise or avoid them!
We get easily distracted when we are tired. Remember about taking regular breaks, going for a walk and catching some fresh air. Breathe, eat well, drink a lot of water and some green tea. These SIMPLE (but often neglected!) pieces of advice will help you to stay calmer, more focused and more patient.
If you can, and surely sometimes you can, turn your mobile off or change it to airplane mode.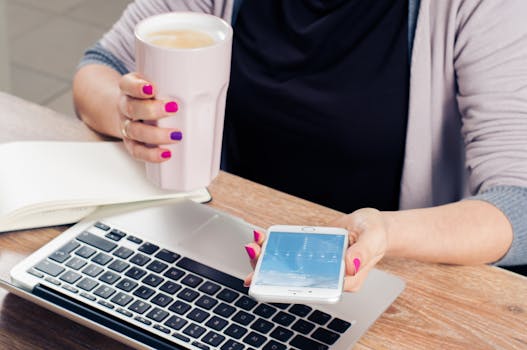 One of the greatest pieces of advice, although quite difficult to follow at first, is to get up earlier to avoid distractions: requests, phone calls, noise, notifications, and questions from others! You'd be amazed how much meaningful work can be done in the early morning hours. Don't get up earlier to catch up with emails or to clean your home! Get up earlier to do something creative, something that's meaningful for you, something that will give you exceptional results and will bring you closer to achieving your goals. Write, read, work on your business or project, for example. This is a precious time.
If you get up 1 hour earlier every day you will gain 7 extra hours for something that matters to you! How does that sound? Seven quiet precious hours. I had a long period of time when I was able to get up 2 hours earlier than usual. That's 14 hours a week! Now while in advanced pregnancy I have had to change my schedule because of the need for more sleep. Remember, not every piece of advice will work the same for everyone but I can say that this tip which I read about in What the Most Successful People Do Before Breakfastby Laura Vanderkam (available here
) made a huge improvement in my life.
Experts advise that to change your habit and make this morning routine easier, ideally, you should get up at the same time every single day. If you allow yourself to sleep longer at weekends, then you'll feel that it's more difficult to get up early during weekdays.
If you feel it's too difficult to do this, maybe try a shorter period of time; for example, 30 mins extra in the morning—that will also make a difference. Just remember to make sure that you still can sleep 7-8 hours a day.
Some people like to have their Power Hour in the morning so they can feel they've achieved something before everyone else gets up. Power Hour means that you dedicate one hour where you put 100% effort into a dedicated project, activity or task. Or it may mean for  some people, for example: 20 mins spent on some creative work, 20 mins of reading and 20 mins of exercising. Check what will work best for you. Knowing that you achieve something early in the morning will make you more satisfied and put you in a more positive mood which will last for hours during the day.